On The Way To Woodstock
Hey all you bikini heat fans out there and welcome back to another great sensual experience. Today we have four hotties just for you, who are going to show you how much fun they have on the road, on their way to Woodstock. They have to get there as soon as possible, but they want everyone to notice their arrival. So sit back and watch them offering a great show and an awesome view to everyone around them.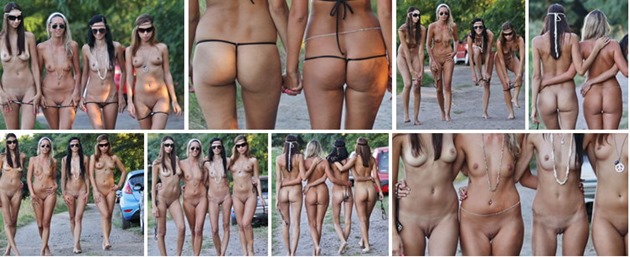 When the camera starts, you'll see these four naughty babe, wearing nothing on them, just some tiny panties. You'll see them side by side, walking one next to the other, and gently taking them off, revealing their sexy, slutty cunts to everyone who wants to see it. You'll see them from front and from behind, parading and showing off their superb curves and wonderful figure, as the camera gets closer and closer, to get a better close up to their sweet tits and horny pussies. We hope you all had a great time watching this great show and we're looking forward to having you back next week for more similar new material just for you to watch and enjoy! Until then, check out the blog and watch other beauties getting naked and revealing their perfectly shaped bodies in public places!
Watch here naughty chicks revealing her amazing curves!